MARCELS
On September 2005, Emilio López-Menchero held an exhibition at Nadja Vilenne galery in Liège entitled MARCELs. Along with previous drawings, photographs and objects, the artist occupied the main room of the space with numbered singlets hung on aligned wires as people are used to do to dry their clothes.
The video MARCELs is a slide show where, in each of the 99 slides, the artist is wearing a numbered marcel, from 1 to 99. Actually, Marcel is the name of a famous Belgian company and a model of singlet created at the end of the XIX century.
By winking at Marcel Duchamp's readymades and Marcel Broodthaers' use of numbers, López-Menchero highlights the symbolic – sexual, economical, political, social - meanings of this popular dress. But he also suggests multiple references to, among others, Rainer Werner Fassbinder's Querelle (1982), Jean Paul Gauthier, dockers, Marcel Cerdan, bodybuilders, Pablo Picasso, annual leaves or the iconic Marlon Brando in Elia Kazan's A Streetcar Named Desire (1951).
This work has been digitised in the frame of DCA Project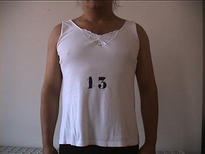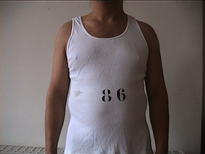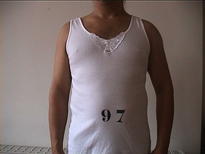 Format miniDV(miniDV)
Color system PAL
Color col.
Year 2005
Duration 00:05:12
Artists