IJSBREKER 04: KUNST TE KOOP
The television programme 'Ijsbreker' always undertakes an expedition into the most dangerous areas of the cultural icy mountain ranges, reeling about this time between the peaks of visual art and the hidden iceberg of art trade, the gallery circuit, art criticism and museum policy. Broadcasts are made from three locations: the Meervaart in Amsterdam, where an auction of contemporary artworks was being held, invited a couple of Dutch visual artists, art collectors and so-called 'alternative' gallery keepers. At Montevideo in Antwerp, a space for experimental art activities, the opening of the exhibition 'Marchandises' and a parallel "art liquidation project" by Guillaume Bijl instigated a couple of Belgian artists and gallery owners to discuss the dynamics between artistic creation, art education and art trade. At the BRT studio in Brussels Wim van Krompen, a renowned gallery owner from Amsterdam and Jan Hoet, curator at the 'Stedelijk Museum voor Actuele Kunsten' in Ghent, discuss their views on the purpose of galleries and museums, and the relations between various art circuits and markets. Part of the BRT (Belgian radio and television broadcast network) television series 'Ijsbreker' ('Icebreaker').

Original broadcast date BRT: 13/04/1983.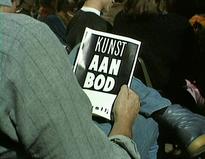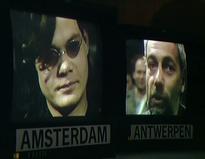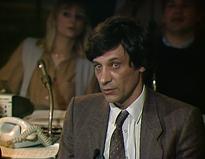 Format 1"A(1 inch - type A)
Color system PAL
Color col.
Year 1983
Duration 01:02:38
Languageinfo
Spoken: Dutch/ Flemish

Artists