TORERO / TORPEDO (8 DE MAYO 2004, S.M.A.K. GANTE)
The first time that Emilio López-Menchero performed Torero / Torpedo is on May 8th 2004 at 5pm in Ghent. The occasion was the opening of the exhibition which celebrated the 5th anniversary of S.M.A.K.
López-Menchero is a torero, stoically walking through the S.M.A.K with his bull-bike geared with a tape player playing loudly scores of classical paso-dobles. The camera traces the artist outside the art centre and while, uninvited, he goes into the museum and takes a good look at the artworks in the exhibition that present a prominent red element or horn shape.
Afterwards he rides out of the building through the front doors, disappearing in the direction of the bicycle race.
This work has been digitised in the frame of DCA Project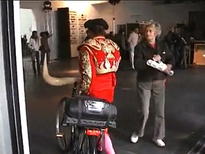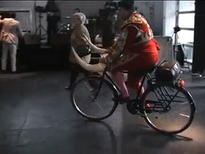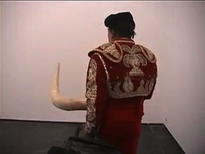 Format miniDV(miniDV)
Color system PAL
Color col.
Year 2004
Duration 00:15:06
Artists