PAINTING WITH PICASSO
The image of Picasso, wearing only a swimsuit while painting a few masterpieces a day, became maybe the biggest myth of 20th century art. In any case a lot of photographers depicted him that way. Koen Theys rassembled different of those photographs of Picasso while he was painting, and erased the painting as well as the interior of the photo, so that only Picasso with his brush was left. With morphing-effects Picasso was brought alive again, but the paintings are gone. Only the gesture of painting is left.
The work can be projected as a single-screen, or as a double-screen with one image mirroring the other.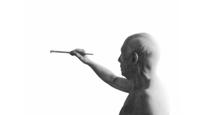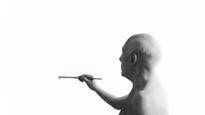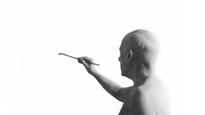 Format DV(DV (consumer standard))
Color system PAL
Color b&w
Year 2003
Duration 00:02:00
Artists