VU'CUMPRA? - BIENNALE DE VENISE 99
Vu'cumpra? - Biennale de Venise 99 is a report of a performance realized in Venice in 1999. In the frame of the project En attendant l'année dernière (Waiting for last year), curated by Laurent Jacob, Lino Polegato from Flux-News organized a parallel project called No Milk Today on the notion of churn.
To respond to Polegato's invitation, Emilio López-Menchero dressed in the colours of Belgian national flag and decided to sell to the passers-by and Biennial's visitors all sort of souvenirs and gadgets of the Atomium, the iconic building in Brussels originally constructed for Expo '58, the 1958 Brussels World's Fair.
Under the useful hints of the vu'cumpra (the name the Venetians give to their illegal street-sellers), López-Menchero looks for possible buyers and hangs around the Ponte dei Sospiri (the Bridge of Sighs), the Giudecca island and several national pavilions in the Venice Biennial area.
This work has been digitised in the frame of DCA Project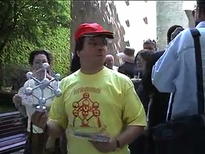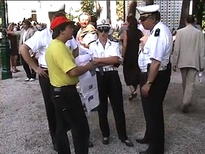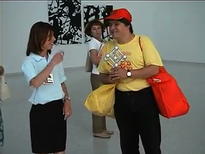 Format miniDV(miniDV)
Color system PAL
Color col.
Year 1999
Duration 00:32:46
Languageinfo
Spoken: French, Dutch/ Flemish

Artists