SONSBEEK. A NEW STANDARD FOR OUTDOOR EXHIBITIONS
Sonsbeek. A New Standard for Outdoor Exhibitions is the 5th title in the "Archives" series, which is dedicated to landmark exhibitions and curatorial practices. It brings together two films by Belgian filmmaker Jef Cornelis on the Sonsbeek exhibitions held in 1971 and 1986 in Arnhem (Netherlands). With an emphasis on monumental sculptures in dialogue with the landscape, these pioneering art events were crucial to the history of outdoor exhibitions.

Held six years before the first Skulptur Projekte Münster (1977), Sonsbeek '71 questioned the traditional artwork. It renewed the concepts of sculpture and traditional exhibition formats, widely introduced film and video, and demonstrated how artworks function in an outdoor environment, notably through the now canonical examples of Claes Oldenburg, Panamarenko, and Robert Smithson. Fifteen years later, Sonsbeek '86 proposed another rethinking of the exhibition by offering the visitor a "scattered experience." The artworks were exhibited in glass pavilions dispersed throughout Sonsbeek Park. The "new sculpture" featured in the show brought together works by Luciano Fabro, Katharina Fritsch, Mario Merz, Reinhard Mucha, Thomas Schütte, and Ettore Spalletti among others.

Jef Cornelis (*1941) has mainly worked for VRT, the Flemish Belgian national television. He has realized more than 200 films, in particular on architecture, literature, and the arts. An essay by the art historian Yves Aupetitallot offers essential reference points that elucidate the context and controversies of these pivotal manifestations, and examines Cornelis' acute sense of dramaturgy, and his mise-en-scene of the theoretical conflicts.
SONSBEEK (1971, 1986) A NEW STANDARD FOR OUTDOOR EXHIBITIONS
DVD Multizone, 76 minutes, 2016 / 25 €
With two films de Jef Cornelis: Sonsbeek buiten de perken (1971); Spaziergänger mit Hund-Sonsbeek '86 (1986)
Edited and introduced by Yves Aupetitallot
English and French edition; 24 pages, 30 images
Coproduction bdv (bureau des vidéos), Paris ; Argos–Centre for Art and Media, Bruxelles ; JRP|Ringier, Zurich. With the support of the Palazzo Grassi-Punta della Dogana-François Pinault Foundation, Venice.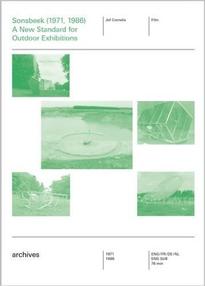 25,00€

Size24 p.
Year2016
ISBN9783037644478
Publish info
Artist(s)

Author(s)