JOËLLE TUERLINCKX. CHICAGO STUDIES : LES ÉTANTS DONNÉS
This edition is composed by Joëlle Tuerlinckx with the support of argos for Susanne Ghez, on the occasion of her 30 years as director of the renaissance society. It includes, reproduces and recovers the material books and films of the exhibition held at the renaissance society at the university of Chicago.
Limited edition of 100. Boxed set with 4 volumes.
Headlines
Content of words : Chicago- the renaissance society: Original material films
Titles and timecodes of chicago study films
Original material - Space thesis : The renaissance society: Les étants
Slides show material ' The university of chicago' : Chicago studies: Les étants donnés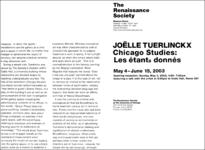 800,00€

Year2003
Publish info

ARGOS Editions : Brussels
Renaissance Society : Chicago

Artist(s)

Author(s)