WORLD OF MATTER
CONFERENCE - ARTIST PRESENTATION
Conference, October 18 and 19th, 14:00 – 19:00
Launch of worldofmatter.net multimedia platform, October 19, 18:00
Attention: the location has changed. World of Matter will take place in the Hotel Marivaux, Adolphe Max Laan n° 98, Brussels (salle Federico Fellini)
With Mabe Bethonico, Ursula Biemann, Uwe H. Martin, Helge Mooshammer & Peter Mörtenböck, Emily E. Scott, Lonnie van Brummelen & Siebren de Haan
'World of Matter' is an international art and media project investigating primary materials (fossil, mineral, agrarian, maritime) and the complex ecologies of which they are a part. Initiated by an interdisciplinary group of artists and scholars, the project responds to the urgent need for new forms of representation that shift the debates from an industrial and market driven domain to open platforms for engaged public discourse. Beyond a traditional notion of raw materials as resource and system of supply lines for humans, the project directs a deeper attention to the situated materialities of stuff like gold, rice, oil, fish, land or water and the intricate multispecies entanglements within which they emerge. This considers a planetary perspective on a world that matters.
During the 2-day conference, WoM presents several art and research projects that engage specific global situations in view of shedding light on the interdependences between human and non-human actants in this fragile system. Under what material and political conditions does material reality come into being and what aesthetic language and conceptual rethinking will be necessary to cope with the range of new problems brought into play by the current shift from epistemological to ontological concerns? In this new ecology of politics, what stakes are there and who enacts them? World of Matter considers visual source material a valuable instrument for education, activist work, research, and raising general public awareness, particularly in light of the ever more privatized nature of both actual resources and knowledge about the powers that control them. Hence the project acts through exhibitions, public events, publications and an online platform. The online platform is the backbone of the collaborative project, providing an open access archive that connects different files, actors, territories and ideas. It is the result of extensive field research and media production in many sites of heightened natural and material significance such as the extractivist Amazon basin, the Indian cotton farmers, the water ecologies of the Nile, the fisheries in the Dutch polders, the mining culture in the Brazilian Minas Gerais or the rush for arable land in Ethiopia. The platform is conceived in such a way as to stimulate a variety of possible readings about the global connectivity among these sites.
WoM core group: Mabe Bethonico, Ursula Biemann, Uwe H. Martin, Helge Mooshammer & Peter Mörtenböck, Emily E. Scott, Pablo Tavares, Lonnie van Brummelen & Siebren de Haan.
'World of Matter' is largely funded by the Federal Cultural Foundation Germany; The web platform is funded by the Zurich University for the Arts (ZHdK) and George Foundation.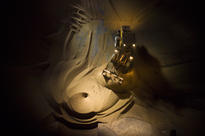 Fri 18.10.2013 - Sat 19.10.2013
14:00 - 19:00
Practical info

Location:
Hotel Marivaux (salle Federico Fellini)

Adolphe Max Laan n° 98

Brussels
info@argosarts.org
+32 2 229 00 03

Opening hours:
14:00 to 19:00

Entrance Fee:
Free entrance

Artists