TERESA COS + CAROLINE PROFANTER: LIVE ON ACOUSMONIUM
PERFORMANCE
07.11.2018 – 18:30
This event is part of Argos Nocturne. The exhibitions are open until 21:00. The entrance is free.
In a dual exchange with sound artist Caroline Profanter, Teresa Cos will perform a live session of her ongoing project The Archive of Loops, fragments of which compose the soundtrack of her film installation The Measure of Disorder. The reiterating phrases that Cos produces by looping her voice, guitar, percussions and found instruments are spatialised through a multitude of diverse speakers distributed around the space of the exhibition. The acousmatic journey recalls that of the film, playing with notions of order, disorder, memory and the (ir)reversibility of time.
The audience is welcome to move around during the time of the performance.
Duration: 41' Live sound: Teresa Cos Live spatialisation: Caroline Profanter (Caro Ernest) Technical advisor: Ludo Engels.
The exhibition The Measure of Disorder is curated by Ive Stevenheydens and runs until 23.12.2018.
Related events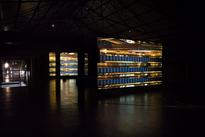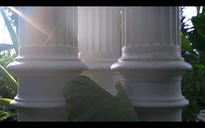 Wed 07.11.2018
18:30 - 19:30
Practical info

Free entrance

Argos

Werfstraat 13

rue du Chantier

1000 Brussels

info@argosarts.org

+32 2 229 00 03

This event is part of Argos Nocturne. The exhibitions are open until 21:00. Free entrance.

Artists