CURATORS TALK: UKRAINIAN CONTEMPORARY ART: ON THE HORNS OF A DILEMMA
SPECIAL EVENT - PRESENTATION - DISCUSSION
On the occasion of her visiting programme in Belgium, Kunstenpunt invites Kateryna Filyuk (Izolyatsia Platform for Cultural Initiatives), together with guest speakers Elena Sorokina (Documenta 14) and Sonia Dermience (Odessa Biennale 2019), to talk about curatorial and artistic practice in the historical and political context of Ukraine and the broader region. The event is hosted by ARGOS.

Kateryna Filyuk will talk about various challenges Ukrainian artists, and its vigorous art scene deal with, such as a conservative art educational system and the recurrent attempts to make a stand against it; the searches for new identities; the reestablishing of Ukrainian art history doomed to oblivion in the Soviet times; the rediscovering and revealing of contradictory pasts and their continuing legacies; the responding to the recent revolution and ongoing war in Eastern Ukraine; the rise of the far-right and its attacks on art. She will draw some examples from the last 2-3 years (exhibitions, projects, institutions) to map the situation.
Elena Sorokina will talk about the Ukrainian native Soviet era artist Valery Lamakh (1925–1978). One of the key figures of the underground "unofficial" network of artists-friends, he was also one of the main representatives of official socialist public art, creating mosaic panels - the tilework decorating many Soviet residential buildings. Their contradictory legacy of "monumental propaganda" and a cryptic proto-abstraction is intensely discussed today. Lamakh's "unofficial" work - his legendary "Book of Schemes" was presented at documenta 14 in Kassel.
https://www.documenta14.de/en/artists/21978/valery-pavlovich-lamakh
Sonia Dermience will introduce VI Odessa Biennial (23 August – 15 October 2019). The Hotel Odessa exhibition shows the influence of the context on the creation of artists and curators living in their locality and travelling around Europe. It also documents practices that speak about insularity, isolation as much as connection, network and friendship. The title Hotel Odessa refers to the hospitality concept of being together, yet it also speaks, not without a sense of dark humor, to the real Odessa hotel in the passenger terminal in Odessa Sea Port. This high-rise building inorganically invades the architectural ensemble of the Potemkin Stairs, which have not been functioning since 2011.
https://odesa-biennale.org.ua/en.html
Date and hour: Friday 8 February, 18:00–21:00
Location: ARGOS, Rue du Chantier 13 Werfstraat, 1000 Brussels
Free attendance
Registration requested: lissa@kunsten.be
Organised by Kunstenpunt in collaboration with ARGOS.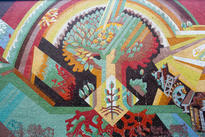 Fri 08.2.2019
18:00 - 21:00
Practical info

Date and hour: Friday 8 February, 18:00–21:00

Location: ARGOS, Rue du Chantier 13 Werfstraat, 1000 Brussels

Free attendance

Registration requested: lissa@kunsten.be

Organised by Kunstenpunt in collaboration with ARGOS.

Artists