PETER DOWNSBROUGH - AND[BACK / A[S / SET [ING] / ]AND HERE
PREMIERE SCREENING
All four films witness a recurrent double theme or even obsession. On the one hand, there is the world as social construct: the urban, and the organisation of urban space — including those somewhat 'in-between' spaces: industrial landscapes as they for example figure in ]AND HERE. Downsbrough shows us how thinking about space and giving form to space is culturally relative, and how space co-defines the social. On the other hand, there is an inverse interest: by injecting linguistic, properly typographical elements – already starting with the titles, the words of which appear as 'figures' in the films – represented space becomes part of a language game. Thus, while Downsbrough certainly documents a certain era: ours, bearing our marks and those of a past still present — the rather empty, uninhabited spaces here proposed offer themselves as a mental 'places', for the viewer to discover.
AND[BACK
2005, 4'30'', video, b/w, sound
A[S
2005, 2'56'', video, b/w & colour, sound
SET [ING] 2003, 4'20'', video, b/w, sound
]AND HERE
2007, 24', video, b/w & colour, sound
The work of Peter Downsbrough (US, 1940) – sculpture, graphics, photography, video, film, books – began with an interest in architecture and articulates a complex relationship between architecture, language and typography. Only the bare essentials remain: form is reduced to lines, colours are mostly barred. In his videos, movement and language are explored in relation to time and space: they both represent and deconstruct modern urban and industrial space. At the same time, a linguistic twist takes place: by inserting and interposing word blocks like AND, AS or IN, Downsbrough tilts the videos to a kind of 'phrase', which simultaneously functions as a 'place' for the viewer to lodge in. He has exhibited at the Reina Sofia (Madrid), SMAK (Ghent), the Paleis voor Schone Kunsten/Palais des Beaux-Arts (Brussels) and Museum Sztuki (Lodz).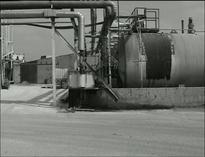 Wed 07.11.2007
20:30 - 20:30
Practical info

Location:
argos

Entrance fee:
free

Artists
Works