JAMES LEE BYARS - FROM LIFE TO ART AND BACK AGAIN
BLACK BOX - SCREENING
T
he American visual, performance and video artist James Lee Byars (1932-1997) made an emphatic mark on the postwar avant-garde. From Life to Art and Back Again compiles three videos documenting an artist whose life and work were inseparably linked. Jef Cornelis' film documents Byars' exhibition at the Antwerp Wide White Space Gallery in 1969. The artist talks to Walter Van Dijck about the meaning of art and clothing, the beauty of 'natural landscapes in an urban setting', the role of museums, and Byars' conception that an exhibition is the translation of his ideas. The conversation is intersected with footage of participants in Byars' performance in the streets of Antwerp. The video essay entitled The 100 Images are in One Second, made by Byars and Continental Video, combines autobiographical material – Byars' participation in exhibitions at the Centre Pompidou in Paris, Guggenheim in New York and Documenta V in Kassel, and performances of his own and by other artists, with numerous references to classical painting. Underpinned by the music of Satie, this nimbly edited work is a loose, humorous and sometimes arresting reflection on the position art occupies in life.
Peter Brosens' The Death of James Lee Byars is based on the artist's installation/performance of the same title and also on The White Mass. In the first, Byars stages his own death and in the second he reduces a gothic church to its essence: white robes cover the windows, the cross and the altar in a performance led by a priest that balances between a church service and Byars' own ideas.



Jef Cornelis -
James Lee Byars, Antwerpen 18 April - 7 mei 1969.
1969, 16mm transferred to video, 32'30", b&w, English Spoken.
James Lee Byars/Continental Video - The 100 images are in one Second.
1979, video, 18', colour and b&w, English Spoken.
Peter Brosens - The Death of James Lee Byars.
1995, video, 22'35", colour, English and German Spoken.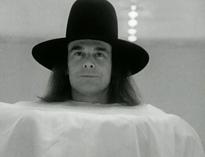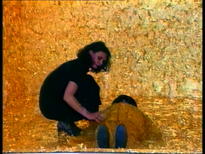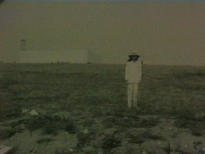 Tue 02.2.2010 - Sat 27.3.2010

Practical info

Location:
Argos
Werfstraat 13 rue du Chantier
1000 Brussels
info@argosarts.org
+32 2 229 00 03

Opening hours:
Tuesday to Saturday, 12:00 to 19:00

Entrance Fee:
3 euros

Artists
Works