CHERICA CONVENTS - OFFICE BAROQUE
BLACK BOX - SCREENING
This video documents the thinking behind and making of Office Baroque, an on-site work the American artist Gordon Matta-Clark (1943-1978) created in 1977 in an empty house in the centre of Antwerp. For months, Cherica Convents and Roger Steylaerts followed the artist and others involved in the project, till its final completion. The makers remain deliberately in the background: the video is detached and merely documents. Supported by the menacing soundtrack (Syntheses, by André Stordeur), the documentary becomes almost abstract. The makers abstain from any comments whatsoever—they opt for soberness and detachment, creating space for their own subjects: the house, the artist, the curators and the labourers working on Office Baroque. Their editing is postmodern: throughout the entire documentary, we frequently see the final result, even when Matta-Clark is still engaged in the preparatory activities. Taking their time, Convents and Steylaerts confront us with every detail. The registering camera as it were scans the architecture and the interventions of the artist. Not only the soundtrack alienates the viewer, but also the images of passers-by and of life outside: a brass band, wading birds and tourists skewing at the camera contrast sharply with the mental world and environment in which the artist lives.
Matta-Clark considered Office Baroque his best work ever, "because it was so invisible." It was the last large-scale work the artist worked on before he died in 1978 of cancer.
Cherica Convents - Office Baroque
1978, 42', colour, Dutch and English spoken.
Screened every hour.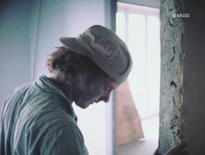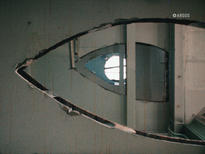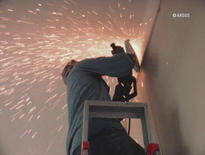 Thu 25.4.2019 - Sun 28.4.2019
11:00 - 18:00
Practical info

Argos
Werfstraat 13 rue du Chantier
1000 Brussels
info@argosarts.org
+32 2 229 00 03

Opening hours

from Thursday to Sunday, from 11am to 6pm

NOCTURNE: Open late night until 9pm every first Wednesday of the month.

We are always open on public holidays (except Winter holidays).

Entrance Tickets:

6 € Individual visitor

4 € Students, seniors (+60), unemployed

1,25€ Ticket Article 27

2 € Paspartoe aan kansentarief


0 € -18, teacher, ICOM card, press, IKT members, SUBBACULTCHA members and every 1st Wednesday of the month

We are partners with Paspartoe (www.paspartoebrussel.be), dynamoPROJECT & dynamoOPWEG

NB: The entrance ticket is a personal pass that gives you unlimited access to the exhibition.

Artists
Works