POLITICALLY TODAY _PART3
PRESENTATION - SCREENING
Edurne Rubio (1974) is a visual artist active in the domains of exhibitions, performance, cine- ma and architecture. She often creates in situ projects in public space. In recent years, her work has got closer to documentary and anthropology, as the artist has started to use interviews, archive footage and research material on oral communication. In the film OJO GUAREÑA we join a group of speleologists that enter the gigantic cave of the same name in Spain. We barely notice the prehistoric traces and the contours of the spaces, but we hear all the better: drops of water that have for ages been recreating the shape of the cave and continue to do so to date, as well as echoes of human footsteps. Rubio punctuates this soundscape with memories of the speleologists and revolutionary songs that denounce Franco's dictatorship. A journey through space and time.
Edurne Rubio - OJO GUAREÑA
2018, video, 56', colour, Spanish spoken, English subtitles.
Related events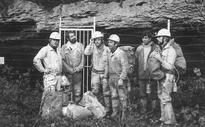 Mon 05.11.2018
18:00 - 19:00
Practical info
Artists
Works