CAMP - BEGINNINGS
EXHIBITION
OPENING SATURDAY 5 OCTOBER 18:00-21:00
Beginnings is an exhibition tracing some of the conceptual and artistic origins of CAMP, a Mumbai-based studio for transdisciplinary media practices. Since 2008, CAMP has built a steady reputation for exploring the emancipatory possibilities of image-making, archival practices, distribution, and viewership through artistic projects and interventions. They aim to challenge our understanding of technology and infrastructure, while bringing knowledge and the reversal of power dynamics to the fore.
Beginnings, however, goes back in time. Revisiting a number of formative artworks from 2001-2008, a period of their output that predates the establishment of CAMP, the exhibition addresses some of the fundamental elements that would subsequently come to define the studio's main artistic concerns.
Beginnings destabilizes traditional notions of image-making. It speculates on fundamental questions of the nature of film and video through site-specific spatial and technical interventions. It invites us to look behind digital images as they materialize, to position ourselves inside a video camera apparatus, to explore the lowest-bandwidth phenomenon we could call "a film", to think about energetic distributions and subject awareness, or to simply look outside a window and think about a neighbourhood of images. Displaying these primary, precise interventions and actions, the exhibition asks which new rules, materials, and sensibilities are needed to construct images of the world, almost from scratch.
Additionally, Beginnings connects these questions to two later works by CAMP that most directly translate these initial experiments into fully-realized film projects. The exhibition as a whole thus points towards fundamental shifts in image-making ground and agency: away from its producer towards its subjects and environments, while heightening our sensory awareness of this shift.
Curated at ARGOS
About CAMP
CAMP is a Mumbai-based studio for transdisciplinary media practices, co-founded by Shaina Anand and Ashok Sukumaran. CAMP's work engages with the overlapping history and politics of technology, social forms, and image making. From their home base in Chuim village, Mumbai they run the online archives Pad.ma and Indiancine.ma, and the community space R and R, among other activities including their long-running rooftop cinema. Their artistic work has been exhibited internationally, including at film venues such as the Flaherty seminar, the BFI London Film Festival, the Viennale and Anthology Film Archives, and in art contexts such as the Biennials of Liverpool, Sharjah, Kochi-Muziris, Gwangju, Taipei and Shanghai, the Tate Modern, MoMA and Ars Electronica, Documenta 13 in Kassel and Kabul, the Kiemena project at Documenta 14, and the 2017 edition of the Skulptur Projekte Münster.
Picture credit: PTZ camera housed on roof of a home, Old City, Jerusalem 2009. Working Still, Al Jaar Qabla Al Daar (The Neighbour before the house) Image: CAMP.
Related events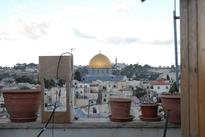 Sun 06.10.2019 - Sun 22.12.2019
11:00 - 11:00
Practical info

ARGOS centre for audiovisual arts
Werfstraat 13 rue du Chantier
1000 Brussels
info@argosarts.org
+32 2 229 00 03

Opening hours:
Wednesday – Sunday 11-18:00
Monday – Tuesday Closed

Open late night until 21:00 every first Wednesday of the month.

Entrance Tickets:
• 5 € Adults

• 3 € Students (+18), seniors (+60), unemployed people, groups

• 2 € Paspartoe

• 1,25 € Article 27

• 0 € Children (-18), teachers, people with disabilities and their personal assistants, ICOM card holders, Museum Pass holders, press, IKT members, SUBBACULTCHA members

• ARGOS participates in Paspartoe (www.paspartoebrussel.be), dynamoPROJECT & dynamoOPWEG

NB: Repeated entry to all exhibitions on view throughout a particular exhibition period.

Artists