HAUNTED HOUSE
BLACK BOX - SCREENING
In the
Haunted House
programme the house, along with its inhabitants, objects and events is used as the setting for a spectacle of magic and illusion, in the cinematographic tradition of Méliès. Making use of techniques such as pixilation, animation and electronic image manipulations, artists like Gary Hill, Zbigniew Rybczynski and Michael Snow explore the relationship between the passing of time and the order of things. They set up imaginative fables, as carriers for poetical contemplations and philosophical insights. Hesitating between cinematic theatre and technical ingenuity, between science fiction and deception of the senses, the presented works do not envision a distortion of reality, but rather a mirror of transformed reality, a perpetual metamorphosis.
in collaboration with
Vidéochroniques
.
Paul Bush
,
Furniture Poetry
(UK)
1999, col., 5'
The work of Paul Bush (1956) crosses the boundaries between fiction, documentary, and animation. This video is an animated short which puts apples, plates, tables and chairs through rigorous balletic paces.
Zbigniew Rybczynski
,
Tango
(Pol.)
1980, col., 8'
The first films of Rybczyński (1949) such as
Take Five
(1972) broke new ground in the use of pixilation, optical printing, animation and other compositional film devices. Zbig was active in an avant-garde group 'Warsztat Formy Filmowej' and cooperated with 'Se-Ma-For' Studios in Łódź, where he set amongst others Tango, for which he recieved an Oscar for Best Animated Short Film in 1982. In that film over a dozen separate actions are layered on top of each other as a day in the life of a small room unfolds. After emigrating to the USA, he created many outstanding music videos and High Definition productions.
Dan Geesin / Esther Rots
,
De Tuin (The Garden)
(UK / NL)
1999, kleur/coul., 11'
An idyllic pastoral mansion is the setting for a showdown of the compexity of human relations. The polished facade of a whole generation crumbles due to the hidden, underlying human drives.The videomakers Geesin and Rots use a cinematic aethetics closely related to advertising: they show us a series of images of clean and rich people in a civilized family environment in order to reveal a society in decline due its own clichés and stereotypical patterns of behaviour.
Gary Hill
,
Why Do Things Get In a Muddle?(Come on Petunia)
(US)
1984, col., English (no subt.), 33'
Gary Hill (1951) is one of the most important contemporary artists investigating the relationships between words and electronic images. Originally trained as a sculptor, Hill began working in video in 1973. His first tapes explored formal properties of the emerging medium, particularly through integral conjunctions of electronic visual and audio elements. This exploration would give way to thoroughly unique investigations of linguistics and consciousness -- including the empirical inquiries of
Why Do Things Get in a Muddle?
. A conversation between Alice in Wonderland and her father about "muddles" is constructed through the elaborate technique of reversing the characters' lines, which were originally performed backwards - a double reversal that suspends meaning in an oddly disembodied objectiveness. Mirrored by precise choreography and camera movement, this astounding presentation of a child's parable about subjective perception and its semantic paradoxes demonstrates how order is caused by -- rather than causes -- the interlocking linearity of language, narrative and history.
Michael Snow
,
The Living Room
(Can.)
2001, col., 20'
Michael Snow (1929) is best known for his influential 1967 film
Wavelength
, which remains one of the landmarks of structuralist cinema. His subsequent films investigate the medium's formal possibilities and are often structured on the mechanical properties of the camera itself.
The Living Room
is a 20-minute excerpt from the still incomplete
Corpus Callosum
. Opening on a close-up of a TV screen, the image quickly widens to include the eponymous living room. Digital storms soon overtake the room's human inhabitants and decorative objects, causing them to appear and disappear in the blink of an eye, or morph in shape and size, or dissolve into blobs of electronic protoplasm. Like much of Snow's work,
The Living Room
is strewn with sight gags. Provoking nervous laughter, they are a flimsy defense against an anxiety about the instability of meaning itself—an anxiety exacerbated by the infinitely mutable images of the electronic age.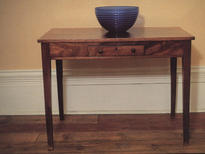 Wed 04.2.2004
20:30 - 20:30
Practical info

Location:
argos

Entrance fee:
3 euro

Artists