CHLOÉ MALCOTTI – H-H
BLACK BOX - SCREENING
The old Rhodiacéta factory in Besançon became an emblematic site after filmmakers including Chris Marker and Jean-Luc Godard collaborated with the workers there for the creation of various films. Today the site will be demolished in order to create something new. The demolition raises questions: should something be kept, what, how? During this process, the memories that are attached to the site morph and fossilize themselves into different shapes: into architecture, into signs, and into vernacular forms. This film-essay focuses on the gestures and their meanings, in action, within this crystallization.
Chloé Malcotti – H-H
2017, 50'27", colour, French spoken, English subtitles.
Screened every hour.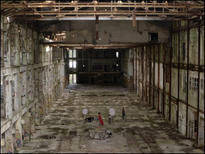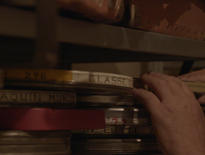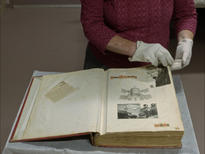 Thu 14.3.2019 - Sun 24.3.2019
11:00 - 18:00
Practical info

Argos
Werfstraat 13 rue du Chantier
1000 Brussels
info@argosarts.org
+32 2 229 00 03

Opening hours

from Thursday to Sunday, from 11am to 6pm

NOCTURNE: Open late night until 9pm every first Wednesday of the month.

We are always open on public holidays (except Winter holidays).

Entrance Tickets:

6 € Individual visitor

4 € Students, seniors (+60), unemployed

1,25€ Ticket Article 27

2 € Paspartoe aan kansentarief


0 € -18, teacher, ICOM card, press, IKT members, SUBBACULTCHA members and every 1st Wednesday of the month

We are partners with Paspartoe (www.paspartoebrussel.be), dynamoPROJECT & dynamoOPWEG

NB: The entrance ticket is a personal pass that gives you unlimited access to the exhibition.

Artists
Works