DISSENT ! AVI MOGRABI
SCREENING - DISCUSSION
"Quand vous faites du documentaire, vous devez accepter que la réalité influe en tant que réalité. Cela signifie: accepter d'être surpris, avoir son propre input, ne pas imposer ses propres idées sur la réalité même si on impose ses choix. Je ne prétends pas être un reflet de la réalité, c'est un reflet de ma façon dont la réalité doit être montrée. La question centrale, c'est celle de intégrité." Avi Mograbi
Talk with Avi Mograbi proceeded by a screening of his latest film. In collaboration with Flagey.
Avi Mograbi - Once I Entered a Garden
2012, video, 97', colour, Hebrew & Arab spoken, French subtitles.
"Once I entered a garden to smell the scent of the flowers, and distract my sad soul." So begins the song that gave Avi Mograbi's latest film its title. Crooned by the Syrian singer Asmahan, it tells the story of a love that has withered, of hearts that have been violently broken with little hope of mending. The garden in the title turns out to be not a promised land of dreams, but a forbidden garden with no room left for the other. It is this irresolvable tension between dream and reality, hope and impossibility, that lies at the very heart of the film; a tension that goes to the core of the enduring conflict between Israel and Palestine, the issue Mograbi's work has been fervently dealing with for over two decades. But in contrast to his previous films, here he does not start out from a situation of opposition and antagonism, but one of participation and complicity; and the search that drives him and his companion is not one for agitation or revelation but rather for consolation. A whisper, rather than a cry. As is true of all memorable journeys, its path was not the one initially chosen. In wanting to make a film about his cousin, who used to openly cross the border between Israel and Lebanon, Mograbi calls upon his friend Ali Al-Azhari, a Palestinian who has been living most of his adult life in Tel-Aviv. As their partnership develops, the family tale of crossing borders makes way for a story about crossing identities: between "me" and "we", "us" en "them", Arab and Israeli. The bittersweet account of "sad souls" seeking refuge – at one point quite literary - in a forbidden garden prompts a surge of hope, as a bilingual dialogue on a history in common leaves us pondering the possibility of a common future. Perhaps that is what makes this, as Mograbi himself has argued, his most radical film yet: one proposing, like all tender tales of love and friendship, an experience of a world lived through the perspective of difference, rather than identity.
DISSENT! is an initiative of Argos, Auguste Orts and Courtisane, in the framework of the research project "Figures of Dissent" (KASK/Hogent), with support of VG & VGC. The visit of Avi Mograbi was initiated by KASK/Hogent.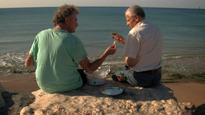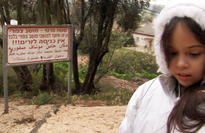 Wed 13.11.2013
19:30 - 21:00
Practical info

Flagey
Place Sainte Croix / Heilig Kruisplein
1050 Brussels
www.flagey.be

Artists