AGLAIA KONRAD - TOMORROW SQUARE
EXHIBITION
Aglaia Konrad makes pictures of urban space in the globalized environment. She aims her photo and video work at urban development of world cities spread over the five continents. Her work should be considered as a form visual research. Over the years she brought together an enormous archive of images shot in such diverse cities as Sao Paulo, Beijing, Chicago, Dakar, Tokyo, Cairo or Shanghai. She draws from this reservoir for her exhibitions and in doing so the immaterial reality of the images often coincides with the material reality of the exhibition space. Up until now Konrad has been best known for her photographic work and her spatial interventions. At argos she presents her video work for the first time. Since 1998 she has systematically been making video recordings along with her pictures of the metropolises she visits on her many journeys. This resulted in a corpus of over sixty hours of images. For her exhibition at argos she edited out a sixteen-hour project.

''The installation Tomorrow Square consists of two facing projection screens on which eight hours of ''cityscapes'' can be seen respectively. The visitor takes place in the middle between the screens. The exhibition situation was conceived by Konrad as a square, where different visual and audible signals are picked up from various directions. The image sequences consist of long to very long recordings: frontal tunnel shots from behind the windscreen of taxis, lateral registrations of passing skylines filmed from cars on highways, perpendicular perspectives from airplanes, landing or taking off, or plain recordings in the street amidst the metropolitan flux with attention to human behaviour.

The overall anonymity, the lack of an intended discursivity, causes the images to become interchangeable. In the projected images a time and space specification passes by at regular intervals, not to encourage identification but as a neutral punctuation. To Konrad the time factor is important in this work. The long recording times challenge the visitor of the exhibition to look intensively, seeing becomes an almost physical experience. Similar to the photographic work of the artist Tomorrow Square - conceived by the artist as architectural videos - is a goodbye to the concentric, centripetal space. The traditional iconographic ''viewpoint'' of the artist (and of the exhibition visitor in line with that) is traded for a more complex and richer level of perception: a meta-perspective on the unique combination of uniformity and particularity characteristic to metropolises and the a-historical and iconoclastic features of these cities.

At the occasion of this exhibition argos editions published a DVD-edition for domestic use of Tomorrow Square that can be ordered through argos. (retail price 200 euro).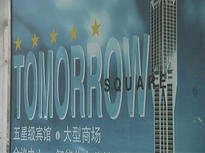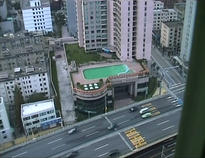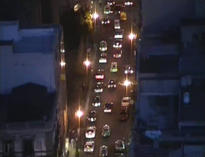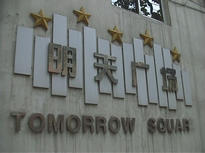 Sat 09.11.2002 - Sat 21.12.2002

Practical info

Location:
argos

Opening hours:
Tuesday to Saturday, 12:00 to 19:00

Entrance fee:
free

Artists
Works