TWO ROY VILLEVOYE & JAN DIETVORST VIDEOS
SCREENING - ÉCRAN D'ART
In their work, Roy Villevoye and Jan Dietvorst deal with the problems of anthropological representation, the conventions of documentary filmmaking, and the legacy of colonialism. As they point out themselves: "The nature of our material means that we are almost automatically classified as part of the documentary genre. However, by no means do we wish to identify ourselves with [it]. The point is precisely to free ourselves from a number of conventions that characterize the documentary. […] We don't want to answer questions, we want to raise them". The New Forest is the result of Villevoye's experiences amongst the Asmat in Papua (formerly Netherlands New Guinea), where Villevoye's work has been focused on since the early 1990's. Distinct accounts and narrative styles are juxtaposed, stories recounted, but without any clear progression or goal, except perhaps to destroy the illusion of New Guinea as an untainted Eden. Far from there, Winter Prayers, their latest collaboration, is set on the French town of Romagne-sous-Montfaucon, in the surroundings of the Verdun battlefield.
Winter Prayers (2006)
video, colour, sound, Dutch & French spoken, English subtitles, 56'28''
The New Forest (2004)
video, colour, sound, English & Asmat spoken, English subtitles, 80'37''
in collaboration with GALERIE ERNA HECEY
The Ecran d'Art series is a monthly screening of artists' film and/or video jointly organised by argos and Cinema Arenberg, in collaboration with La Cambre Academy.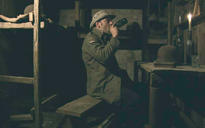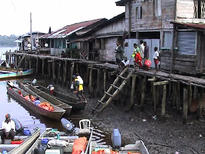 Thu 09.11.2006
21:30 - 21:30
Practical info

Location:
Cinéma Arenberg
Koninginnegalerij 26
1000 Brussel

Entrance fee:
7 / 5,20 Euro

Artists
Works