MARK VERSTOCKT
After a short stay at the University of Ghent, Mark Verstockt started his studies at the Antwerp Arts Academy around 1950. In his collaborations with Dan Van Severen he develops a style of lyrical abstraction, following the examples of Parisian painters such as Hans Hartung and Georges Mathieu.
Verstockt worked mainly in Antwerp, but his success does not end at the borders of Belgium. At the end of the fifties he's become part of a group of artists - among whom also Van Severen, Guy Vandenbranden, Hugues Pernath and Ivo Michiels - that is also active in the Netherlands.
Today Verstockt is best known for his public monuments, in which he tries to create an interaction between art and public spaces. His sculpture Caduceus, made for the Flemish Parliament, and the floor drawings made in the Ancienne Belgique (both in 1996) can be considered as typical examples.
But as an artist, Verstockt should be remembered as one of the pioneers of the Belgian video art in the seventies. In 1982 his fascination with the mathematical origin of forms and objects gives birth to the publication De Genesis van de vorm, van chaos tot geometrie.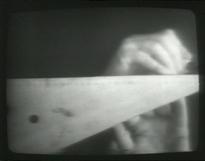 ° 1930 Lokeren (Belgium).
† 2014 Antwerp (Belgium).
Links

EVENTS

At view in the media library

WORKS